July 4th Miami Fireworks Cruise
July 4th Fireworks in Miami just got better! Celebrate your freedom; and embark on the $40M Luxury Seafair Mega Yacht w/ Open Bar & Dinner!
July 4th Fireworks in Miami just got better! Celebrate your freedom; and embark on the $40M Luxury Seafair Mega Yacht w/ Open Bar & Dinner!
VIP Nightlife & Pier Pressure present ...
July Fourth Party Cruise in Miami
Celebrate Independence Day in style on an All-Inclusive 4th of July Fireworks Cruise aboard the $40M MEGA Luxury Yacht, the SeaFair Miami! Pier Pressure ® "Everyone is doing it"
This Independence Day, step aboard the SeaFair Miami, a 4-story, 40 Million Dollar MEGA Yacht; featuring a 3rd Level Top Tier VIP Admiral's Club, a lower level Nightclub and a spacious SKY Deck to give you the best views of a Private Fireworks Show courtesy of VIP Nightlife & SeaFair.
There is no a better way to spend your 4th of July and celebrate your freedom! Now, let's get to the perks of this VIP cruise...
The Highlights:
Full Panoramic Views of Private Firework Show Courtesy of VIP Nightlife & Seafair
4hr Premium Open Bar featuring Titos Vodka
Special July 4th Menu Complimentary for All: BBQ Shrimp Skewer, Beef & Chicken Sliders, Hot Dogs w/ condiment bar, Chicken Wings, Dim Sum buffet, Waffle Fries, Corn on the Cob, Potato Salad, Cole slaw, cup cakes, ice cream cones.
Two (2) Levels of Music
Two (2) Music Formats Played through out the Ship
Four (4) Top Miami DJs Playing the Hits
Multiple Areas to Find the perfect Atmosphere
Amazing ** Stars VIP Admiral's VIP Lounge** with Indoor View
*(Stars** Admiral's VIP Deck: Upgraded Ultra Premium Liquor featuring: Grey Goose, JW Black, Patron/Don Julio
Upgraded **Stars VIP** Food Menu: Sushi Boat Buffet, Beef Skewers, Coconut Shrimp, Gourmet Cheese & Crackers
Group Rates Avail Online
Complimentary Party Favors
And more….
Current Schedule:
Early Check-In: 6:30 p.m.
**Platinum Admiral Stars VIP Boarding** 7:00 p.m.
== Golden | GA Stripes == Boarding: 7:10 p.m.
Gate Closes at 7:50 p.m. (Do Not Be Late - No Refunds)
Cruise: 8:00 p.m. - 10:45 p.m.
Private Fireworks Show at Dusk
Disembark: 10:45 p.m. - 11:00 p.m.
This is Absolutely the #1 location to see the fireworks and have the ultimate July Fourth VIP Nightlife Experience in Miami! The Dock is steps away from Bayfront Park and the Intercontinental. Featuring ...
Premium Open Bar
Premium Brands for ALL
Top Shelf Cocktails for VIPs 
Multiple Elegant Bars on Every Deck
Delicious Gourmet Food
Festive hors d'oeuvres
Raw seafood bar
A culinary array of global cuisine
Dazzling Entertainment
Live DJ entertainment on multiple levels
Spectacular Skydeck fireworks

Some Info to Know:
• Age Policy: Must be 21+
• All Sales are Final. Event will take place Rain or Shine. No refunds or exchanges. Prices subject to change while supplies last.
• Disclaimer: If there are incremental weather conditions that cause the ship to not be able to sail safely; then the party will still be held dockside and the event will not be canceled. There will be no refunds unless event is canceled entirely.
• Please let us know: https://www.seafairmiami.com/terms-of-service/
• Please Note: You may be required to wear a mask due to Covid-19 Guidelines; so please bring your own or we will provide you with one. All staff will be following Covid SAFE precautions and CDC guidelines observed. In the event that we are canceled; you will be refunded.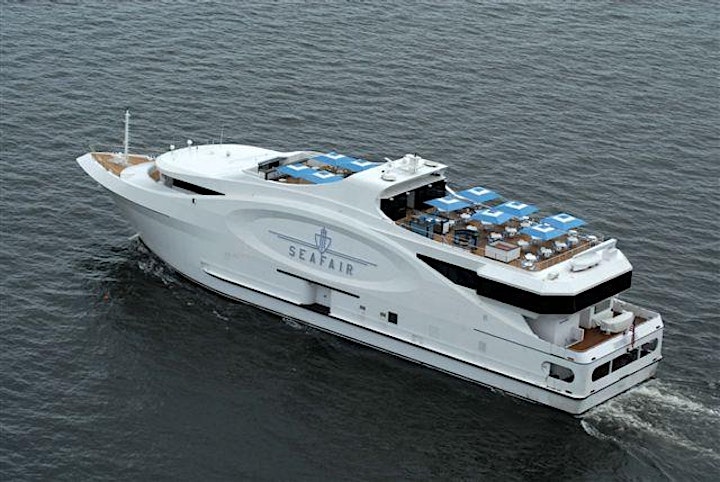 Purchase Policy
Credit Card & ID:
Support:
Purchase Policy:
Event Booking:
Alcohol, Seating, Food:
Event Cancellations:
No Refunds:
Release of Liability:
Indemnity:
Collections & Legal Action Against Debt:
Arbitration Agreement:
Severability:
Thank you for your purchase!